Taunton Live and Pride
Come and join us at one of our many events on Saturday 17th July. Click here for a programme , or click the image below
Follow Your Heart Trail
From 14th July 2021 the Follow Your Heart Trail is launched.
GoCreate Summer Showcase
GoCreate members are currently getting the Summer exhibition up at CICCIC. Please do come and see our work if you get a chance!
Summer 2021 Art Trails
To celebrate Taunton Live & Pride this summer, we thought that we would share the love with some fabulous outdoor trails. With support from the High Street Recovery Grant, GoCreate have created LoveWINdowS Trail from 21st June and Follow Your HeART Trail from 12th July throughout the summer holidays

Taunton Winter Trails
This Christmas, GoCreate Directors Liz Hutchin & Jenny Keogh have teamed up with Susie Thomas from Rocket & Bird / Taunton Independent Quarter to create two amazing festive trails to follow safely outdoors in your support bubbles. Two Trails, 'Find the Lost Toys' in the independent shop windows and follow the 'Bauble Trail' around Town and in some of our beautiful Open Spaces.
The programme's will be available from Taunton Visitors Centre and Rocket & Bird.
It's totally free to take part but if you want to enter our prize draw to win a fabulous hamper you will also be helping to raise much needed funds for our two chosen charities… what's not to love?
In the meantime you can have a sneaky preview by clicking the Taunton Winter Trails poster.
Alternatively you can click here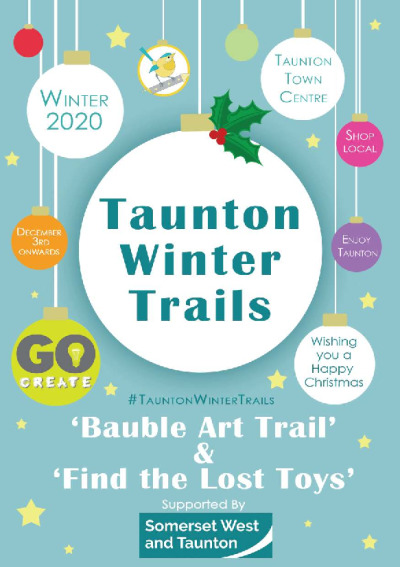 Who are GoCreate Taunton CIC?
GoCreate Taunton is a group of creative practitioners living or working in the Taunton Deane area who want to work together to create Art events. ALL people involved in the arts in any way are welcome to join us!
Our members represent areas as diverse as Music, the Visual Arts, Performance, Photography, Film, 3D Design, Ceramics, Writing and Poetry, Teaching, Architecture, Publishing, Graphic Design, Advertising and more.
We meet on the second Tuesday of every month at the Creative Innovation Centre (CICCIC) on Paul Street, Taunton as part of the Creatives Club from 7.30pm – nb please contact us to find out how we are currently meeting. It changes fast at the moment!
GoCreate Membership costs £20 a year, for this you have a profile on our website GoCreate.org.uk and social media promotion of your work. You also benefit from free exhibitions, opportunities to be involved in Taunton Live Arts festival and many other creative events.
We are currently actively preparing for our fifth Arts Festival in Taunton (TauntonLive) and Taunton Pride Events for Summer 2020 please see our website tauntonlive.co.uk for more details.
Please get in Contact whether you want to join us or if you have an enquiry or a query. You can email either jenny@gocreate.org.uk or liz@gocreate.org.uk or use the form below. We look forward to hearing from you.